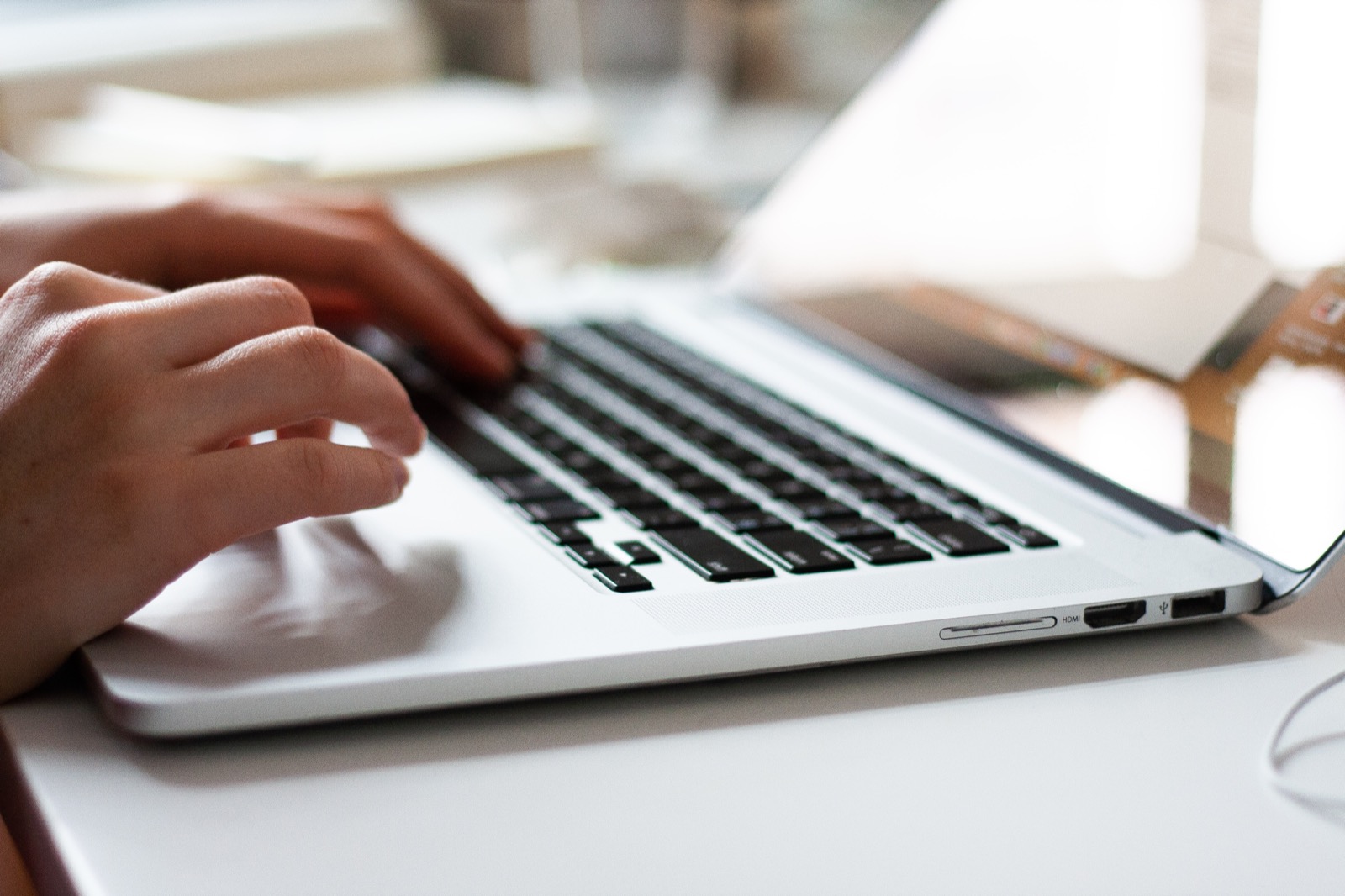 How To Upload A PDF to WordPress (A Step-By Step Guide)
Learn how to upload a PDF to WordPress easily, and the various options you have which go along with it.
Otherwise known as Portable Document Format, a PDF is a digital document for reading, sharing, and printing. In 1992, Adobe co-founder Dr. John Warnock presented the PDF to the world.
Since then, it remains one of the most efficient ways to read and exchange documents.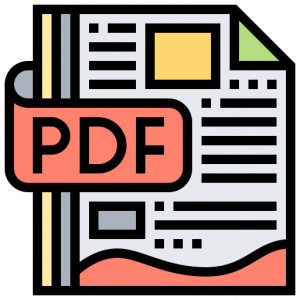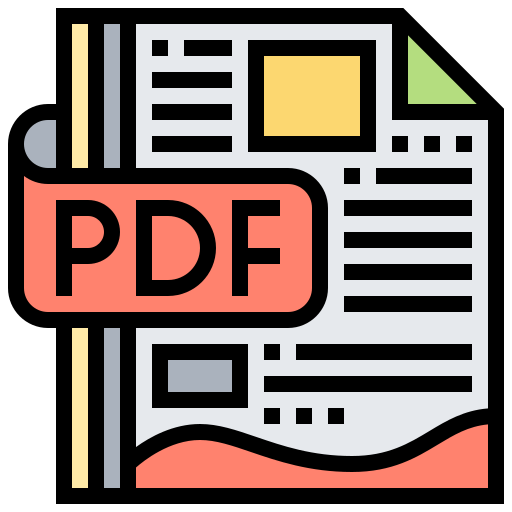 What is a PDF Document?
Notably, PDFs offer the ability to share an essay, book, newspaper, or periodical in seconds. In addition, it is compact and does not take up any physical space like a book.
As a digital document, PDFs are compatible to read using Acrobat, Preview, and internet browsers. With these applications, you have everything you need to enjoy the future of documentation.
As a media publisher, edit and add content to a PDF using Acrobat or Adobe Photoshop. Furthermore, upload, embed, and publish it online to the world using WordPress. To demonstrate, let's examine how to upload a PDF to WordPress.
How To Upload A PDF to WordPress
Want to know how to upload a PDF on a blog? Uploading a PDF is simple with WordPress. Below, learn the simple approach on how to upload PDF files to your WordPress site.
On your WordPress dashboard, hover over the Media menu. It has an icon of a camera and musical note accompanying the text.
Next, click on the Add New option located in the Media pop-up menu.
Notice the blank grey square entitled Upload New Media. Inside the square, click on Select Files.
Navigate to the PDF using the Upload New Media pop-up window.
Select the PDF file, then click Open to upload your document.
Once the file finishes uploading, click the Edit button at the right-hand side of the file.
That's it! Now that your upload is complete, you can copy the File URL at the Edit page of your PDF. With your copied URL, use one of the How To Embed options explained later in this article.
The Best Tool To Embed, Compared To Other PDF Plugins
Realistically, you could send your brain into a tailspin by reviewing all of the PDF plugins out there. But truth be told, PDF Embedder is among the best plugins you will find today. The user experience of PDF Embedder offers unmatched value and excellence in displaying documents and images.
In addition, this plugin maintains a loyal user base ranging from mom-and-pop businesses to government agencies. These are just some of the thousands of users who rely upon PDF Embedder. Notably, PDF Embedder is celebrated by many satisfied customers for its ease of use. Both publishers and readers are happy with its continuous scrolling, smooth functionality and full-screen viewing.
Furthermore, PDF Embedder provides content to the reader in an attractive streamlined format. So with that said, stop looking around and select this straightforward and reliable PDF embed tool. As a result, you will avoid other embed plugins that overcomplicate what should be a simple task.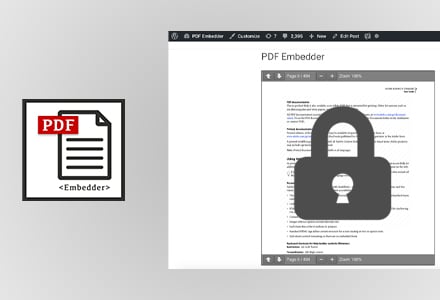 Working with PDF Documents in WordPress
Working with PDF documents in WordPress offers unique opportunities for you as a publisher. In fact, the ease of use and flexibility in using WordPress is quite remarkable.
From uploading and organizing your files to embedding, publishing is exciting. The truth is, WordPress is designed to accommodate a unique publishing workflow. Furthermore, it is a platform like none other for displaying media online.
Notably, WordPress is fully outfitted with the best features to prepare your media. For example, swift uploading, a media library and the ability to implement post blocks are powerful features. Although you can easily publish with these features, you should consider one more thing. Above all, a reliable PDF plugin should also be in your toolbox.
Ideally, your best choice of a plugin is the renowned tool known as PDF Embedder. This tool is essential for working with PDF documents in WordPress and makes things easier.
Managing PDF Documents in WordPress
In this article, we discuss ways to manage your PDF files using WordPress and PDF Embedder. To begin, choose the media option on the left column of your WordPress dashboard. Next, click on the Library button.
Within the Library, your documents are available via thumbnail in the Media Library. Chances are, you might have more than one type of media element in your library. If so, just click on the All Media Items drop-down menu. From there, select the Documents option to view only your PDF uploads. PDF Embedder offers additional management options for your PDF documents after uploading.
In addition, it provides an extra level of security for your media files. For instance, readers cannot download your embedded PDF files with PDF Embedder Secure.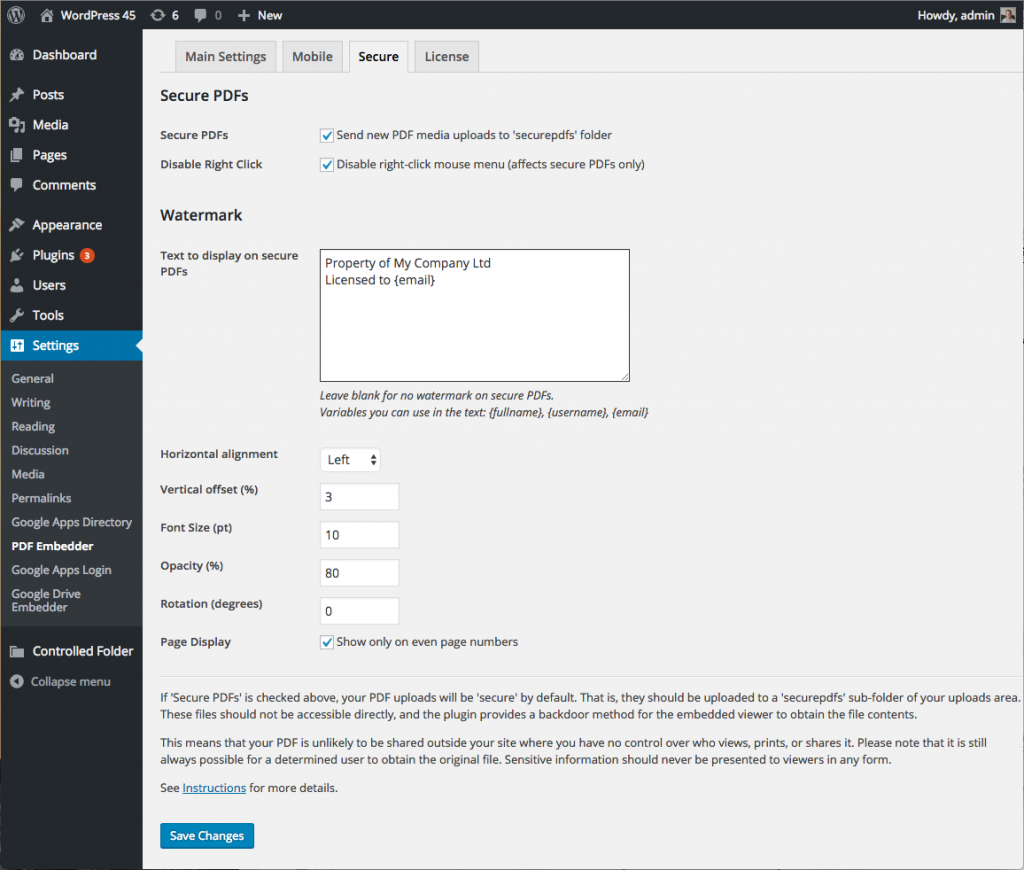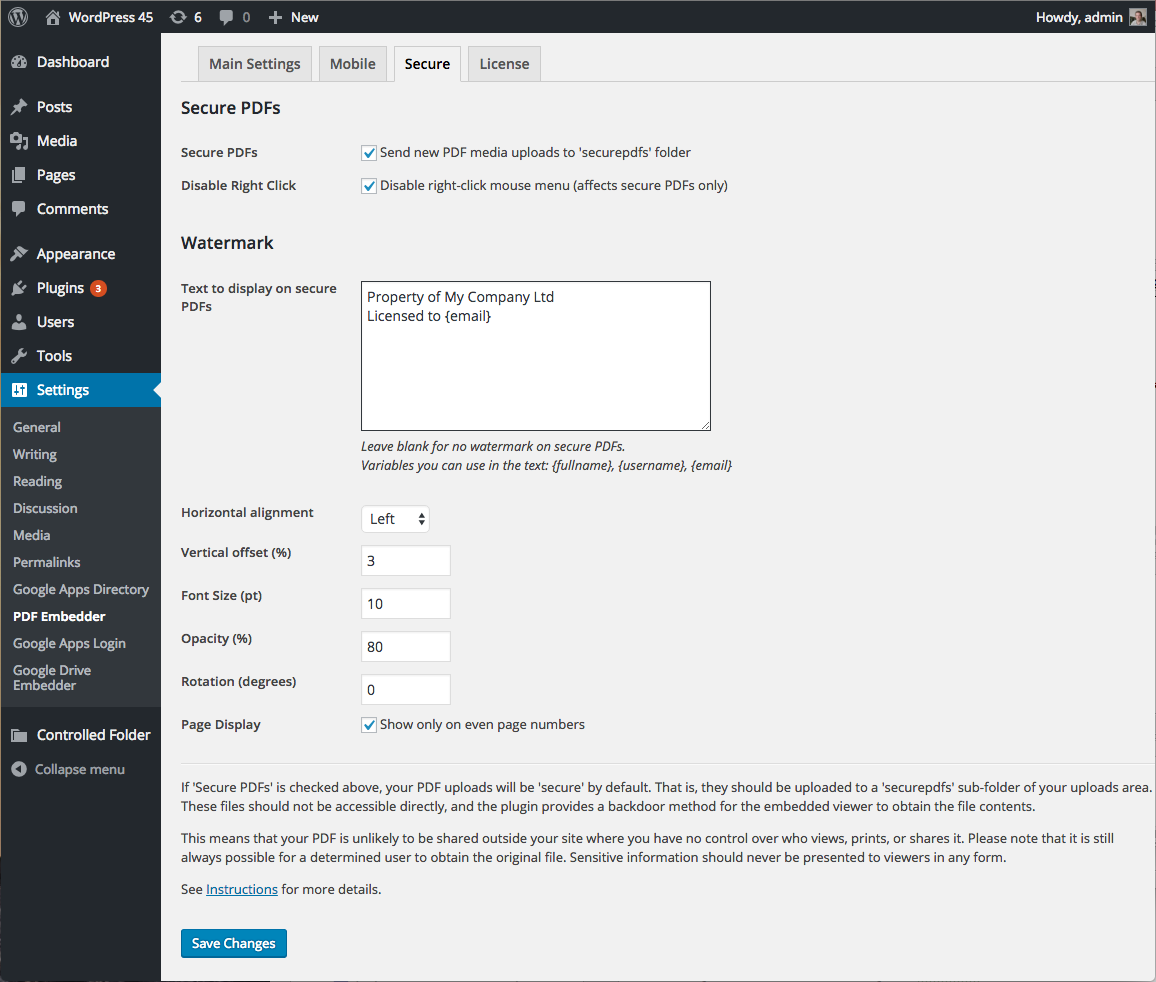 Optimizing Your PDF For Display On Mobile Devices Using Photoshop
Mobile web browsing increases in popularity each year. For this reason, implement PDF optimization to make your document mobile-ready. With optimization, your PDF file size will decrease and therefore load faster on mobile devices.
In addition, the quality of your document will remain intact despite the decrease in file size. Thankfully, Photoshop provides PDF optimization features. To begin, optimize your PDF document using the following steps:
Open Photoshop and navigate to the File menu.
From the File menu, select Open and navigate to your PDF file on your computer.
Select the PDF and open it in Photoshop.
Next, from the File menu select Format from the drop-down menu.
Click on Photoshop PDF from the Format menu, then click Save.
After you click Save a new window will pop up. In this window, deselect the Preserve Photoshop Editing Capabilities option.
Save your PDF. As a result, its file size will decrease.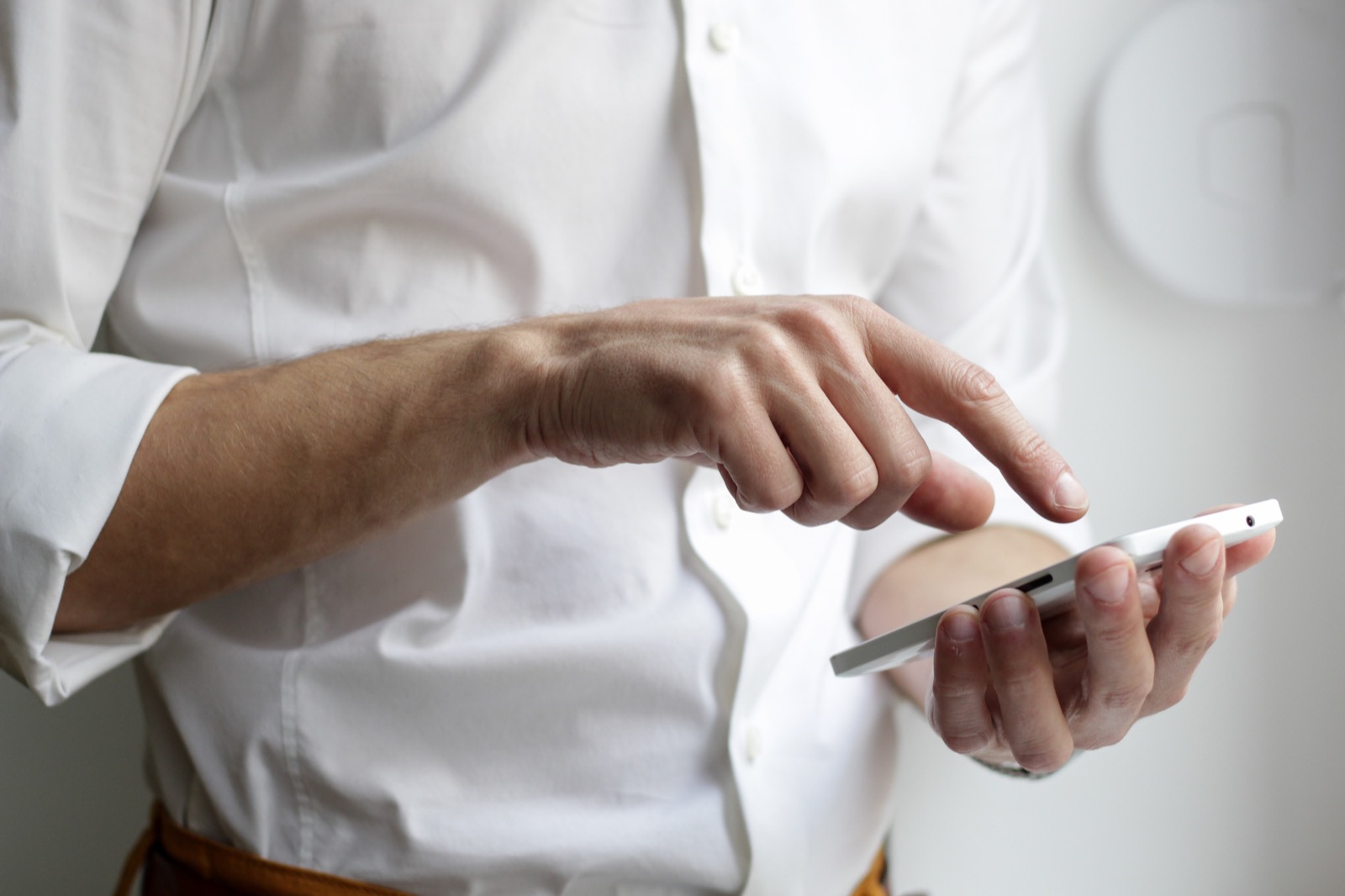 Optimizing Your PDF For Display On Mobile Devices Using Apple Preview
If you can't afford Photoshop, try this free alternative. Fortunately, Mac users can optimize their PDFs with a free built-in application called Preview. Thankfully, it does a decent job when you want to quickly edit or optimize these types of files. Using the following steps, optimize your PDF for mobile display:
Launch the Preview application on your Mac. Next, navigate to the File menu.
Click on the File menu, then select Open from the drop-down menu.
Browse for your PDF document on your computer from the Open window. When you find your document, select it and open it in Preview.
Head back over to the File menu and from the drop-down menu select Export.
From the Export menu, choose Quartz Filter and from there select Reduce File Size.
As a result, Preview will reduce the file size of your PDF making it mobile-ready.
Further Mobile Optimization Of Your PDF Using PDF Embedder
Once your document is optimized for file size using 3rd-party applications, upload it to WordPress. From there, PDF Embedder will take care of the rest. In fact, this plugin will ensure that your document displays correctly on mobile devices.
Regarding mobile optimization, PDF Embedder is equipped with the ability for readers to view your PDF in full screen. Compared to other viewer plugins, this solves the problem of PDFs displaying incorrectly on mobile. Unfortunately, these types of documents are sometimes hard to interact with on small mobile device screens, However, you can fix that with the optimization settings contained in PDF Embedder.
By adjusting (or deleting) the cut-off width setting, it will also adjust your document for various screen sizes. As a result, browsing through the text and interacting with all of the elements of your PDF becomes easier.
Deciding Whether To Embed A PDF In WordPress With And Without a Plugin
Still trying to decide how to embed your PDF document into your latest WordPress post? Truthfully, learning how to embed a PDF in WordPress with and without a plugin is possible. However, it is ultimately your best choice to use the PDF Embedder plugin.
To explain, this plugin provides fancy features to enhance the look and functionality of your document. In addition, PDF Embedder simplifies the process of embedding. With that said, why go through a timely and complicated process of embedding without a plugin?
Instead, rely upon a tool designed to simplify the process and let you see results faster. Rest assured, PDF Embedder is among the best tools available for managing PDFs. Furthermore, it will save you time to complete the other tasks associated with being a WordPress publisher.
How to Embed a PDF in WordPress With a Plugin
PDF Embedder is a professional WordPress plugin that will enhance your ability to embed a PDF on WordPress. Here is how to upload & insert a PDF in WordPress with this plugin.
To begin, use the Media Library section of your WordPress dashboard to upload your PDF.
After the upload is complete, insert a PDF Embedder Block.
Choose the PDF you just uploaded.
As a result, your new post will display .embedded document.
Once the embed is complete, further customization of your document is possible. For example, you can edit the display according to size, shape, and toolbar options. As a result, PDF Embedder is a helpful tool to prepare your documents for online publishing. With this plugin, embedding is easier and offers more options than without a plugin.
Secure Your Embedded PDF Documents
Security of data should be of the utmost concern for any content creator who uploads their work online. To accommodate creators, is the ultimate tool in PDF security that will make your uploads virtually bulletproof. Introducing PDF Premium Secure, which not only is great for uploading documents but is also protective. With this tool, you choose whether or not to allow certain options to your readers. For example, with PDF Premium Secure you can enable or disable options using the following features:
Option to prohibit or inhibit downloading of your PDF documents by online readers.
Ability to activate or deactivate the ability for readers to save images from your PDF.
Choose to add or subtract a transparent watermark which is a copyright for your PDF document.
The truth is, your readers don't always need complete access to your documents. In some cases, you may want to implement some prohibitions. In that case, PDF Premium Secure will get the job done.
Preview Your PDF on WordPress Once It's Uploaded
It is a gratifying moment to preview your PDF on WordPress before publication. This is the moment when you learn how your document will appear to others. Fortunately, it is easy to accomplish this with WordPress. Truthfully, the steps to preview your PDF are quite simple.
While in Edit mode on WordPress, click the Preview button. It's at the top right hand of your browser window next to Publish.
In the pop-up window, choose whether you are on a Desktop, Tablet or Mobile device. After you make your choice, click on the Preview In New Tab button.
And there you have it! In the new window that pops up, you will see what your PDF looks like to online viewers. Take this time to observe any corrections you want to make to your document. Following your assessments, make any necessary edits to improve the display of your PDF.
How To Add PDFs To WordPress, And Easily Add Links Too
Linking is an important aspect of PDF editing that encourages interactivity between your PDF and its readers. As your readers browse your document, anchor links enhance their ability to gain information. For example, your PDF about low-carb dieting could host an anchor link pointing to an authoritative health website.
This is easily accomplished by adding links in a relevant place within the body of the PDF article. To accomplish linking, use your preferred 3rd party application such as Adobe Acrobat, Microsoft Word or Photoshop. Any of these programs can be used to create your PDF before uploading it to WordPress.
Linking To Additional Media Files
In some cases, additional media is needed to support your uploaded PDF document.
As a result, you are able to upload different types of media files into your post. After uploading, position the media below or above the post block containing your PDF. The truth is, a plugin often allows you to embed different types of media into a single presentation. The result is an organized all-in-one display of a PDF, audio and/or video. Without using a plugin, you don't receive the same type of presentation or organization.
Creating A Custom Button Linked To Your PDF
In addition to embedding your document with PDF Embedder, you can create a custom button. This is an extra touch of interactivity you can use to create a link to your PDF. It is optional and can actually help to enhance your embedded document.
Conclusion On How to Embed a PDF File in WordPress
In conclusion, a PDF is simple to manage but offers numerous possibilities for advanced publishing. With this information, you have a step-by-step guide for the process to upload a pdf file.
Thankfully, PDF Embedder offers an all-in-one solution to accommodate your publishing workflow. With this tool, you will enjoy your role as a publisher and experience the simplicity of embedding.
All things considered, this is the best way to learn how to upload a pdf document to WordPress.
Without a doubt, this methodology has helped me to manage my own PDFs with ease. I am happy to share the process on how to embed a PDF on my website.
The Best PDF Embedder Plugin for WordPress
Instantly embed PDF files on your website using in the block editor, Elementor, Beaver Builder, DIVI and more!