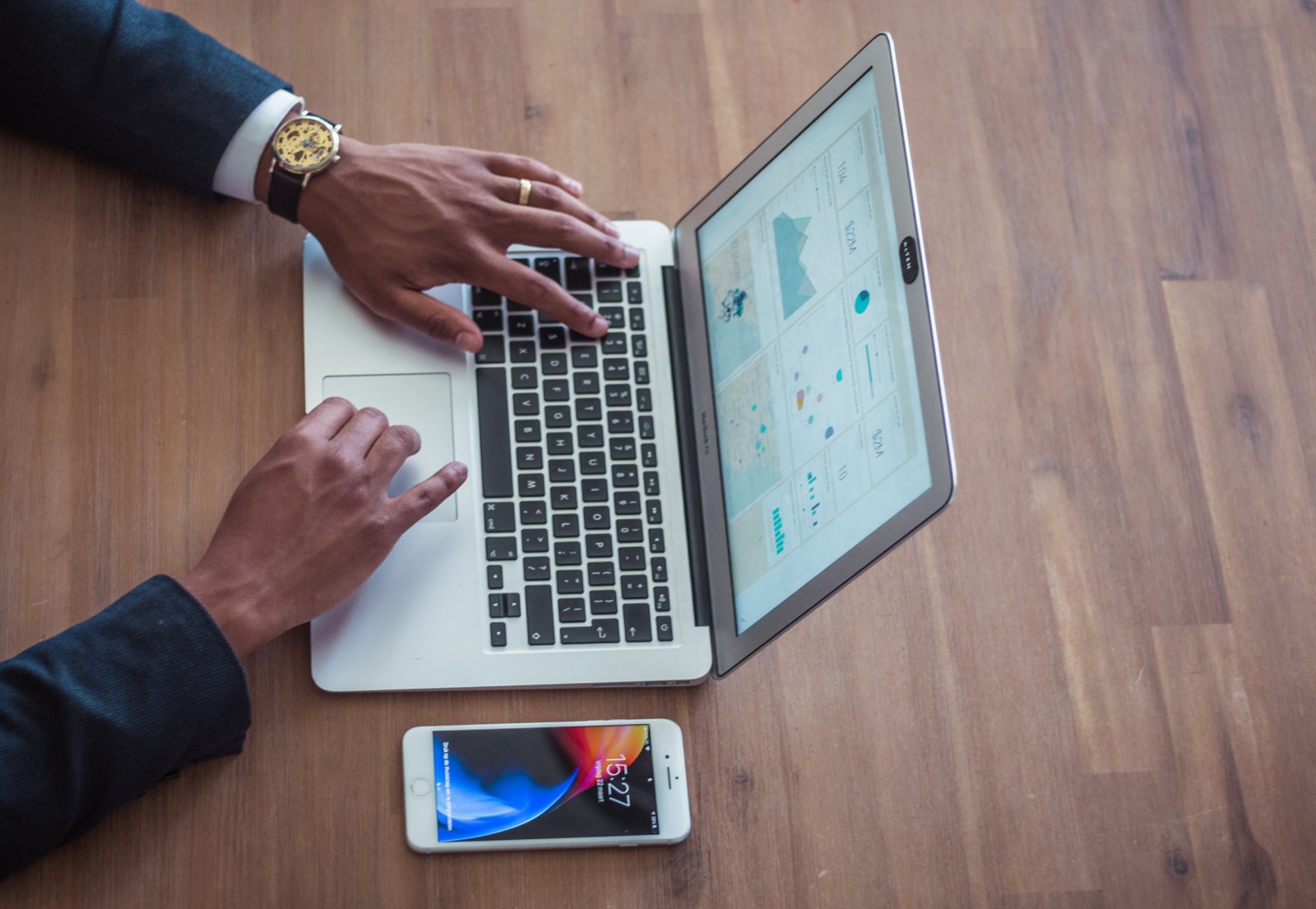 Tracking PDF Traffic Using UTM Tags
In this article we will discuss, in great detail, everything to know about UTM tags. We will start with its history, how to use it inside of PDFs, for tracking PDFs, and much more.
What Are UTM Tags and What is UTM Tracking?
UTM is an abbreviation of 'Urchin Tracking Module,' which is used to track campaign and content performance online. Urchin Software Corporation was purchased by Google in 2005.
Later on, it was Urchin Software Corporation's software that became the basis of today's Google Analytics - making UTM an important cog in today's internet marketing framework.
The module uses something called 'UTM codes'. These are bits of simple code or text that can be added to the end of a specific URL that needs to be tracked. Put simply, UTM tracking is a way of tracking a link's performance to see where traffic is coming from. A UTM code may look like this:
http://samplewebsite.com/sample-post-title/?utm_source=google
The part following the '?' is the UTM code. In this particular example, the code tracks the source or who sent the traffic to the specific page.
By adding a UTM code to your URL, you can transmit to Google Analytics (and other analytics tools) unique information about the link, such as:
Campaign ID
Campaign Source
Campaign Medium
Campaign Name
Campaign Term
Campaign Content
There are two components in a UTM code:
UTM Parameter: This starts with 'utm_. There are five different parameters that can be tracked; utm_source, utm_content, utm_campaign, utm_term, utm_name.
Tracking variable: Refers to a variable used to identify what dimension is being tracked; Followed by the '=' sign and can only contain numbers, letters, periods, + signs, and hyphens.
Video from Moz article, "UTM Tagging for Google My Business".
People use UTM codes to track campaigns online and offline better to understand each link's performance in terms of traffic. The dimensions tracked via UTM codes appear on Google Analytics reports, providing a better insight into campaign performance and marketing efforts.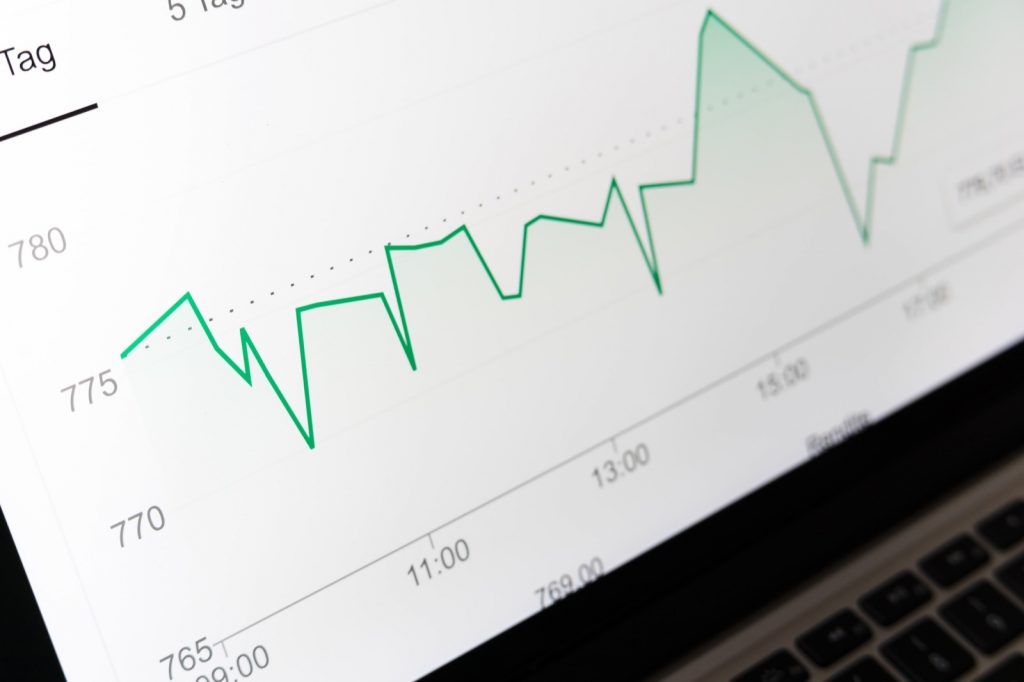 How to Create UTM Tags
You can create a UTM code manually or with a UTM builder such as Google's Campaign URL Builder Tool.
Manually
You can add UTM parameters manually, which means you'll need to type in individual parameters at the end of the URL. Just be careful to double-check what you type so that you are sure your UTM is error-free. This can be done if you just want the campaign name or source at the end of the URL.
However, if you need a longer code with more complex parameters, this is not advisable due to the possibility of committing errors.
A simple UTM code done manually may look like this:
http://samplewebsite.com/page/?utm_source=sampleblog.com
Fortunately, there's more manageable, automated ways to create UTM codes that eliminate the possibility of errors:
Google Campaign URL Builder Tool
Using Google's UTM builder is an easy way to create UTM codes. Here's how to get it done:
Navigate to Campaign URL Builder Tool
Enter your site address
Enter the campaign source
Enter other parameters you wish to track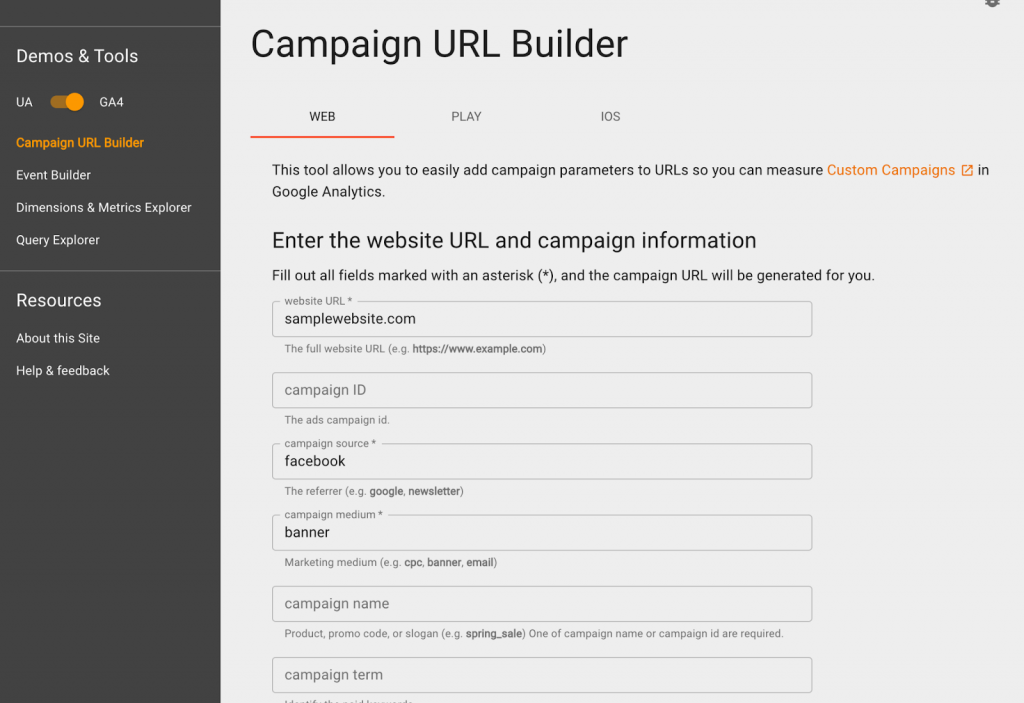 Your URL will have been automatically generated. Scroll down to copy your generated campaign URL:
Use the new link by pasting it into your content or campaign
Is It Possible to Track PDF Link Traffic Using a UTM?
So, is it possible to use UTM codes within a PDF document? Maybe you want to know if people are clicking on your PDF links through your Google Analytics report. In that case, here's the solution to tracking PDF links:
To track link traffic within a PDF, here's what you can do:
Add UTM tags
Add UTM tags at the end of every link you include in a PDF file. For example:
https://www.samplewebsite.com/?utm_source=paper
In this case, the code that begins with the '?' is your UTM code.
Set desired parameters
Use name, term, medium, or content tags to differentiate what you track.
To track links to your PDF, here's what you can do:
Navigate to Moz Open Site Explorer.
Copy and paste the PDF's full URL onto the search bar.
Click 'search.'
You will see the following information:

Root domains linking to your PDF
Pages the links are from
Site domain authority
What anchor text is being used
Newly-discovered links
Easy, right? Not only can you seamlessly add UTM tags to PDF documents - you can even analyze the source of your target audience.
How to track pageviews for a PDF document
You might also be wondering, 'Is tracking pageviews on a PDF possible with UTM tags?'
The answer is yes! It's possible to track search traffic and other things related to your PDF with Google Analytics. Here's how:
Add a parameter to each link
First, add a parameter to each link that points to your PDF (you can also do this for multiple PDFs on your site). For example:
<a href="http://www.samplewebsite.com/sales/brochure.pdf?pdf=Sales-Brochure" target="_blank">Sales Brochure</a>
In this example, the parameter '?pdf=Sales-Brochure' is added at the end of the PDF URL link.
Add custom tracking text (optional)
As seen in the example above, you can also add custom tracking text to identify whether or not the link was indeed the 'Sales Brochure.' This won't affect how your users see or download the PDF.
To check in Google Analytics, go to Content > Site Content > All Pages. Search 'pdf,' and you will be able to view all PDFs you have tagged accordingly. You will now be able to see the pageviews, bounce rate, average time on page, unique pageviews, and other metrics of your PDFs.
PDF tracking tip: Another option is using a tool such as PDF Embedder Premium, which has a built-in feature that allows you to track PDF views and downloads.
How to Find UTM Events in Google Analytics
1. To find your UTM events in Google Analytics, go to analytics.google.com.
2. Then, click Acquisition > All Traffic > Source/Medium. You can select different parameters to understand your data better, such as source, medium, campaign, and source/medium. This is your primary dimension.
3. You can then select a secondary dimension, which you can set via 'Event Category.'
How to Present PDFs with Links Online
So if you have a PDF with links that you want to share or present online, such as on your blog or website, how do you do it?
Some tools allow you to host PDF files for secure and easy viewing. One of the most trusted tools for doing so is PDF Embedder Secure, a secure and dynamic PDF embedder tool that allows you to display PDFs in WordPress.
PDF Embedder is trusted by over 300,000 businesses, including NASDAQ-listed corporations as well as small businesses, universities, and government organizations.
Among its top features are:
Allowing you to scroll continuously between pages
A 'download PDF' button for your users to be able to read the file in their preferred viewers
A full-screen button
Functional hyperlinks
A feature that allows you to jump to a page by typing the page number
Ability to track the number of PDF views and downloads
An unbranded link, meaning you won't see 'wp-pdf.com' in your links
If you need to showcase PDFs with links, this tool can help you do the following:
Display PDFs Elegantly
With an impressive layout and viewing experience, PDF Embedder bests other plugins with continuous scrolling, full-screen ability, and hyperlinking, among others.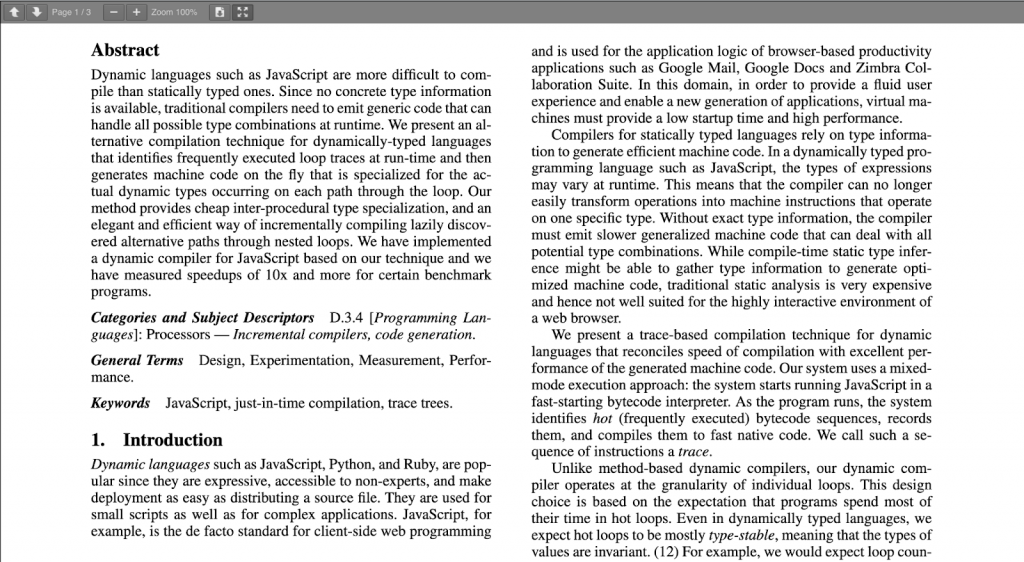 Easily Display PDFs on Mobile
PDF Embedder is mobile-ready and user-friendly. It's as simple as uploading images on WordPress, with no need to rely on third-party services. Your PDFs are guaranteed to show up responsively with no distortion at all.
Won't Hurt Your Site Speed
This tool is built for speed as it uses JavaScript, not iframes or third-party services that give way to slow site speed and outages. Uploading PDFs on WordPress is just as simple as uploading them onto your Media Library (just like images), and you can easily embed them right away.
PDF Embedder Premium starts at $20 for a single site license, $30 for two to five sites, and $50 for an unlimited license - making for great value if you want to effectively share tutorials, courses, e-books, or any other PDF-based content on your digital platforms. Check it out here.
What Can You Track With UTM Codes?
Of the five UTM parameters we discussed earlier, Source, Medium, and Campaign are the three most used parameters. However, you may choose to track all five to get more insights. Here's what you can find out with each:
Source of Traffic
The 'source' parameter tracks where traffic is coming from. To add this parameter to your URL, the code 'utm_source' is added. Examples of sources that can be tracked are:
Google
Facebook
Bing
Twitter
Instagram
LinkedIn
Email list name
Medium
This parameter allows you to track the type of traffic, such as:
Email
Social
Referral
Display
CPC
The code added to track this parameter is 'utm_medium.'
Campaign Name
This parameter allows you to track a specific campaign's performance. With this parameter, you can track and differentiate traffic from different campaigns, such as Facebook Ad campaigns or email campaigns. The code added to your URL for this parameter is 'utm_campaign.'
Content
This is for tracking multiple links pointing to one URL. For example, if you have an ad or blog post with two CTA buttons, this parameter will help you track which one was clicked. The parameter for this is 'utm_content.'
Keyword Term
This parameter is for tracking which keyword term a visitor to your website came from. Specifically used for paid ads on search, the parameter for this is 'utm_term.'
Best Practices for Tracking With UTM Codes
If you're eager to start using UTM codes to track your campaign links, here are a few helpful tips to get you started:
Set a naming convention
Primarily if you work with a team, it's helpful to establish a naming convention for UTM codes right away. This is so you can have access to precise data once you check your analytics for campaign performance. Put together a document that determines your preferred naming conventions for the most common UTM parameters. For example, decide if you want to use:
'facebook' or 'facebook.com'
'social media' or 'social'
'search' or 'paid search'
'reddit' or 'reddit.com'
And so on.
It's generally best practice to use lowercase in your UTM links, although it's optional. Here are a few other considerations for naming:
Specify capitalizations for common parameters
Specify extra spaces, too
Determine if you are going to use either underscores or dashes for campaign names. For example: sample-campaign-name or sample_campaign_name
Use short and easy to understand campaign, content, and source links
Always use easy-to-understand names for your content, source links, and campaign so that any member of your team can readily understand what the code means. As much as possible, don't use abbreviations and numbers that might not be universally understood.
Here's a great example:
https://samplewebsite.com/article/tracking-pdf-links-with-utm?utm_medium=paid&utm_campaign=facebook-worldwide-loggedinuser30days-no-allseg&utm_source=facebook.com&utm_term=pdf-links-utm
On the UTM code above, you can easily understand by looking at the campaign name that it is targeting Facebook users worldwide who have logged in within 30 days.
In contrast, here's an example of a difficult to understand UTM code:
https://www.samplewebsite.com/offers/?utm_source=Mailers&utm_medium=_bella_camp_121156&utm_term=bella_camp_121156&utm_campaign=_bella_camp_121156
As you can see, the code above uses similar names for various parameters, and the name doesn't make much sense. It would also be difficult to analyze data coming from this UTM code. This is why it's important to create a clear naming convention for your parameters.
Make your URLs user-friendly by using link shorteners
Sometimes, you can't help it if your UTM code is a bit long. After all, the more you want to track, and the more sophisticated your campaigns become, these things tend to get longer, too. However, that's not beneficial for user experience, is it? Luckily, link shorteners are an easy enough solution for that.
You can use a tool like Bit.ly to shorten extremely lengthy and complicated links and turn them into shorter, more shareable URLs. Shortening URLs does not affect your UTM parameters; it just gives your users a shorter, easier to share URL for their benefit.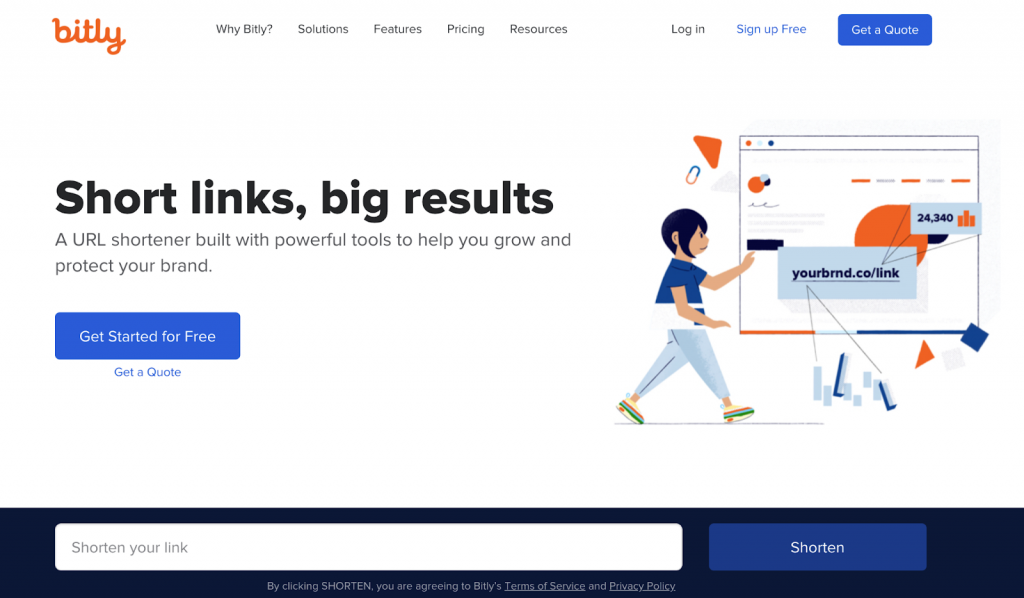 Conclusion
Using UTM codes is an effective way to track campaigns and monitor marketing performance. With the help of tools like Google Campaign Builder and Google Analytics, you can easily track campaigns and improve performance.
PDFs are sometimes overlooked in UTM tracking. However, they're an important resource to track as most websites display PDFs for users to browse or download. Most of the time, downloaded PDFs also connote that users are interested and engaged in the material.
Tracking PDFs with UTM codes can allow you to track traffic, pageviews, time on page, downloads, and other important metrics that will give you valuable, helpful insight to improve your communication materials even more.
Hopefully, this detailed guide can help you find different methods for PDF tracking, as well as point you in the direction of helpful tools to display, analyze, and track your PDFs, like PDF Embedder Premium.
The Best PDF Embedder Plugin for WordPress
Instantly embed PDF files on your website using in the block editor, Elementor, Beaver Builder, DIVI and more!